SHORKIES
$750
PRICING AS POSTED
ON EACH
INDIVIDUAL PUPPY
to insure your
puppy's health
YOUR PUPPY COMES WITH A
1 year health guarantee
your puppy has been vet checked
AND
we discount $75 on regular priced puppies
for your puppy's initial wellness check at your vet
per
MINNESOTA PUPPY LAW
This is a cross between a Shih Tzu and Yorkshire Terrier. A fully grown Shorkie
can weigh up to 15 lbs. Their coat can be black, golden or brown or a
variation. Shorkies are so interactive they seem just like a two year old child.
They love to play with stuffed toys. They are excellent alert dogs. They think
everyone is their friend. They are easy to travel with. The Shorkie is a very easy
going dog. They make a great family dog. If you are looking for unconditional
love, the Shorkie is the right dog for you. Shorkies are very intelligent and very
easy to train. They are friendly , playful and energetic. Average life expectancy
is about 13 years.
TOYS AND OTHER ACCESSORIES THAT WE HAVE
AVAILABLE ARE PICTURED ON OUR FAQ PAGE
ACCESSORIES NOW AVAILABLE FOR SHIPMENT
PICTURED ON THE OTHER PUPPIES PAGE!
No Puppies
Are Available
Check Back Soon!
Thank You!
updated 11-17-23
NO PUPPIES ARE AVAILABLE

AT THIS TIME

$300 NON REFUNDABLE DEPOSIT TO RESERVE THE PUPPY OF YOUR CHOICE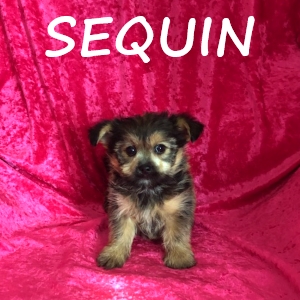 Sequin is a sable
female Shorkie
placed in her new home 9/18/23
YOU ARE WELCOME TO CALL MONDAY THRU SUNDAY
FOR INFORMATION OR TO ARRANGE AN APPOINTMENT
BETWEEN 8:30 AM & 8:30 PM
WE ARE AVAILABLE BY APPOINTMENT ONLY
TO MEET PUPPIES
WE ACCEPT CASH
OR
VISA/MASTERCARD
no checks
You are welcome to email us
pupspe@yahoo.com
OR
Call us
@
507-461-3327
if you have questions
or would like to
set up an appointment
to meet a puppy
THANK YOU!!