CAVAPOO
$999
PRICING AS POSTED
ON EACH
INDIVIDUAL PUPPY
PRICE POSTED IS A
CASH PRICE
REFLECTING A 5% DISCOUNT

to insure
your puppy's health
YOUR PUPPY COMES WITH A
1 year health guarantee
your puppy has been vet checked
AND
we discount $75 on regular priced puppies
for your puppy's initial wellness check at your vet
(discount is not given for on sale puppies)
per
MINNESOTA PUPPY LAW
TOYS AND OTHER ACCESSORIES THAT WE HAVE
AVAILABLE ARE PICTURED ON OUR FAQ PAGE.
ACCESSORIES NOW AVAILABLE FOR SHIPMENT
PICTURED ON THE OTHER PUPPIES PAGE!
The Cavapoo, is one of the most sought-after Doodle Dogs. A cross between the affectionate and gentle
Cavalier King Charles and the agile and intelligent miniature Poodle, this designer dog
is sure to display a fantastic personality. A small dog in appearance, with a sweet round face,
endearing large eyes, a button nose, and long floppy ears, the Cavapoo is truly one
of the most adorable and cuddly pups. The Cavapoo's hypoallergenic coat is soft and silky,
and varies from straight to wavy or curly. It comes in a variety of beautiful colors which
are most commonly black, brown, tricolor, white, and yellow. As a hybrid, the Cavapoo dog
embodies the small size of both the Cavalier King Charles and the Mini Poodle. Affectionate, gentle,
graceful, and with an agile mindset, the Cavapoo certainly inherits an amazing
set of qualities from both parent breeds.
BREED TYPE / MIX Poodle crossed with a Cavalier King Charles
ENERGY Moderate SHEDDING Non Shed TRAINING Responsive
TEMPERAMENT Intelligent, Loving, Social ADULT WEIGHT15-30 lbs
ADULT HEIGHT9-17 in LIFE SPAN12-15 yrs

updated
1-29-23
THIS LITTER AVAILABLE FOR PLACEMENT
$300 NON REFUNDABLE DEPOSIT TO RESERVE THE PUPPY OF YOUR CHOICE
Shawn is a white & buff
male Cavapoo
DOB 10-25-22
adult size about 20-25 lbs.
AVAILABLE NOW
beginning balance
$1074
minus wellness discount
$75
ending balance
$999 plus tax
Ashley is white & buff

female Cavapoo

DOB 10-25-22

adult size about 20-25 lbs.

AVAILABLE NOW

beginning balance

$1074

minus wellness discount

$75

ending balance

$999 plus tax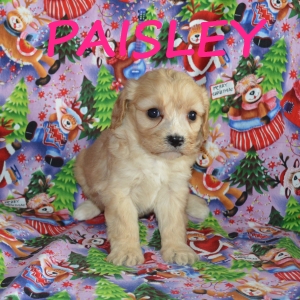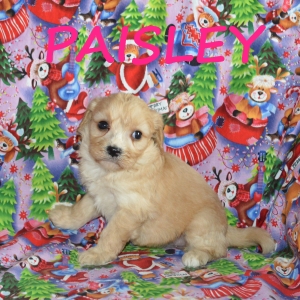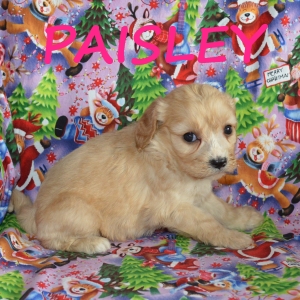 Paisley is buff & white

female Cavapoo

DOB 10-25-22

adult size about 20-25 lbs.

AVAILABLE NOW

beginning balance

$1074

minus wellness discount

$75

ending balance

$999 plus tax
YOU ARE WELCOME TO CALL MONDAY THRU SUNDAY
FOR INFORMATION OR TO ARRANGE AN APPOINTMENT
BETWEEN 8:00 AM & 9:00 PM

WE ARE AVAILABLE BY APPOINTMENT ONLY
TO MEET PUPPIES
WE ACCEPT CASH
OR
VISA/MASTERCARD
no checks
you are welcome to email
pupspe@yahoo.com
or call
507-461-3327
if you have questions
or would like to
meet a puppy